About Us
We have found that many people in other areas have no one to relay information to locally without putting themselves in danger, but having an out-of-country contact gives them a safe opportunity to present findings. Our company receives this information and passes it on to the proper authorities.
No amount of security precautions can protect us from all the thousands of ways in which terrorists can strike at times and places of their own choosing — and eventually with nuclear weapons. Our only hope is to get advance information as to where other terrorists are and how they operate.
Do you share these goals and would be willing to help?
Contact us
.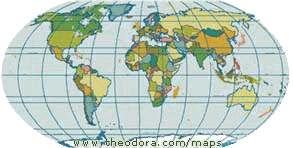 FAQ
Confidentiality
No one's identification is given at any time to anyone without permission from you.

No information goes before the public.

No one's email, address or phone is given to anyone.

Who gives information?
All who want to stop TERRORISM and it's actions.

Anyone in the world of any race, country and religion.

What information is reported?
Actions that may cause harm to people, structures and economics.

Names and places of people or groups that will or have caused these actions.

Funding used to finance the terrorist.

Websites of terrorist.

Translation and interpretation of terrorist communication.

Why?
Terrorism and Cancer are exactly the same; unless you stop them early they will spread to the point of no cure.

---
Map courtesy of
www.theodora.com/maps
. Used with permission.